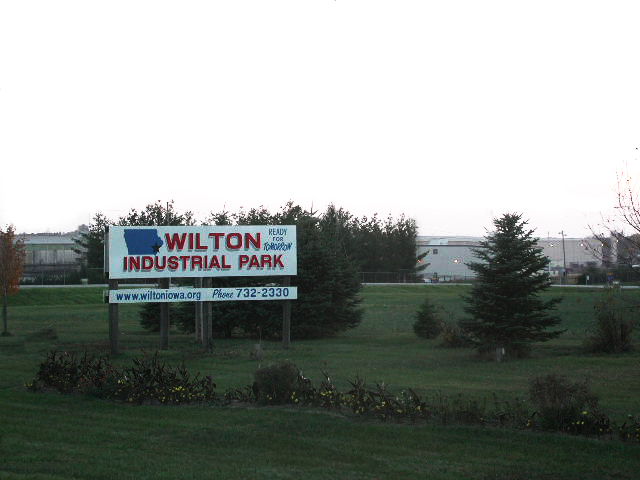 We've had another busy year! As you know, the goal of the Wilton Development Corporation is to promote, recruit and retain business and industry, along with fostering positive growth in our community.  We continue to work with many business and industry prospects in the fervent hope they will decide to make their home in our area. This year we welcome Justin Paul, head of JKB Services LLC into our WDC Industrial Park. JKB Services is a small trucking company that hauls fertilizer from Davenport to Wisconsin, Minnesota and Iowa. We now have 10.40 acres left to sell and we continue to look at investing in more land for industrial development. 
As members, you've worked alongside WDC and helped us identify the following initiatives to accomplish our shared goals:
Community Revitalization---We saw many visitors to our community this year to view the Freedom Rock and our historic sites while contributing to the well-being of our local businesses. To give them and our prospects a guide to our beautiful community, we updated and printed a City of Wilton Community Profile which is sent out to commercial and industrial prospects and available at many businesses. We also completed a City of Wilton map that will be going out to Welcome Centers near us, as well as being distributed to WDC members throughout the community.   This year, along with Muscatine County Historic Preservation Commission, we identified historic country schools and churches in Wilton and Moscow. We are now in the process of ordering signage for each of these sites in order to welcome more visitors to our area.
Muscatine County Freedom Rock Smorgasbord – We sold another 100 plus pavers (618 pavers total) for the Muscatine County Freedom Rock and dedicated them at a Smorgasbord event on Labor Day.  Several hundred folks came to partake in a delicious 25 cent meal, great music and raffle prizes.  This event was so successful that the Freedom Rock Team decided to do it again in 2022!  
Skilled Workforce Initiative---Realizing that our industries require a strong and skilled workforce, WDC is working with the Wilton and Durant Community School Districts, Eastern Iowa Community Colleges, the City of Wilton and the Wilton Public Library to implement a plan of action to offer our students an opportunity to seek careers in mechanical, electrical, technical and manufacturing skill sets in order to build and strengthen our local workforce and help our economy to grow and prosper. In 2021, we completed a Virtual Career Fair for students. We received several short videos from our Industrial Partners highlighting their processes and products that were part of this program.  
In 2022, we are putting together a MakerSpace & Business Incubator.  A MakerSpace is a place for hands-on learning with all the tools/equipment/technology needed for junior and senior high school students, as well as folks in the area that would like to learn a job skill.  We will be working closely with our Industrial Partners to get the correct tools/equipment/technology and curriculum to meet their skilled workforce needs for this hands-on learning.
Housing Initiative--- A third key piece in achieving our goal is having housing stock that meets the needs of both current and future residents. The WDC- partnering with the City of Wilton, is working with Rural Housing 360 to serve the unmet housing needs of our community. You can click on www.ruralhousing360.com for more information. This year, we built and sold two more homes with a third home scheduled to close by end of year. 
In addition to new homes, we also welcomed Chandler Point Apartments!  The new rental community with 35 apartments is being built at 801 W. 5th Street in Wilton and will provide affordable and market rate one and two bedroom apartments designed for senior households 55 years and older. The first units could be available by summer of 2022.   
Completed the Hwy # 38 Corridor Economic Development Study—The purpose of this study was to develop a comprehensive guidebook for the continued development of the Highway 38 corridor between Wilton and Interstate 80. This guide will help us to attract and direct investment, establish a vision for the area and serve as a strategic framework for future development along this vital gateway. You can go to the link below to read it:
 https://wiltonhighway38study.wordpress.com/
Healthy Hometown Initiative--- In order to enjoy a strong economic base, health and wellness initiatives are important and help to ensure a quality of life.  This year we completed our first Bike Rodeo for elementary students in the 4th through 6th grades.  These students learned important skills including rules of the road, traffic signs, and general safety tips through a healthy, educational and FUN activity.
In 2022, we will be working with the Safe Routes to School Program as we will be focusing on improving sidewalks. We will also be doing another Bike Rodeo for younger children.
Wilton Y Wellness Center---WDC, partnering with the City of Wilton, the Scott County YMCA, and many businesses/organizations have finalized plans for the Wilton YMCA Wellness/Recreation Center. We are now pursuing grants and will begin local fundraising. 
WDC partners with all local, state, and federal officials, foundations and organizations to identify funding sources and grants that support these initiatives.  As a WDC member your dues donation is critical to the successful development of our area's economic health, revitalization and bright future.  I've enclosed a 2022 dues invoice and we hope you will continue your investment in the Wilton Development Corporation.  We thank you for your time, business and support!